A tale of three sailboats crossing the atlantic (winter 2015-2016)
| | | |
| --- | --- | --- |
| | | |
| The class 40 Pogo SUR | the class VO65 TeamBrunel | the 44' cat Higgins |
Note: 3 boats, 3 tracks and all three boats ripped their mainsail on their transatlantic crossing
Time to sail across the atlantic: SUR:19 days, TeamBrunel:8 days, Higgins: 20 days
PS If you think 8 days is fast, remember that Spindrift2 has sailed across the north atlantic in 3 days!
(see links at bottom of this page)
From the ARC 2015 race web site below is the track of TeamBrunel
text extract from ARC web site
"VO65 Team Brunel (NED) has broken the ARC Course Record sailing from Las Palmas de Gran Canaria to
Rodney Bay, Saint Lucia in an elapse time of 8d 7h 39m 30s "
-total naut. miles 3342, rhumb line nm 2700
-total hrs 199.62
-speed: VMG 13.53 knots, avg 16.74 knots
-VMG/avg ratio 0.81
The wind conditions for the ARC race were perfect on Nov 22 2015 at the start (and through the race).
Note the Bermuda and Azores highs at the top of the image. (http://www.worldcruising.com/arc/eventfleetviewer.aspx )
The movement, or the extent, of these highs, affects the wind in the middle of the Atlantic.
And at the end of the ARC race on Nov 30, note the low wind in the mid-atlantic (upper right):
The SUR track (feb 25- mar15) 19 days Hierro to LeMarin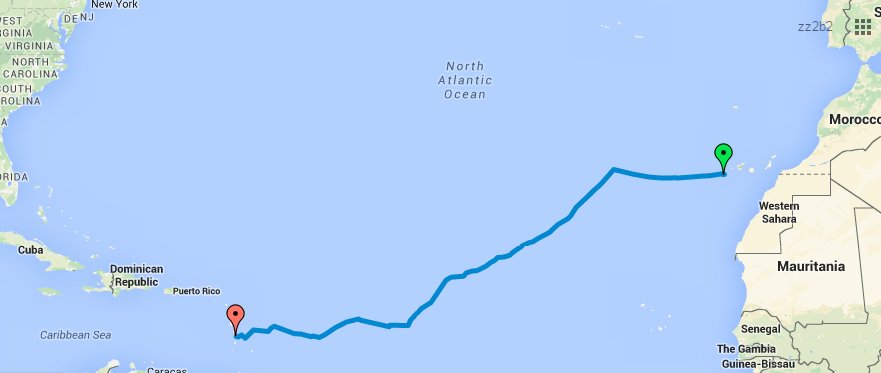 The Higgins track (mar12-apr1 2016) 20 days Hierro to St Lucia
Wind conditions mid-atlantic during the SUR crossing (note the triangle of no wind zone !)
below is the Pogo40 SUR track on Google Earth, with ocean depth and boat speed according to position on track (GPS position given hourly via Spot3)
Links and notes : Spindrift2, a 131ft long trimaran, has broken numerous records including the east-to-west transatlantic in 6 days and west to east in 3 days. The trimaran usually averages 30knots plus and has a width that is the same as the length of the VO65! To put that in perspective, this boat has gone over 800nautical miles in one day on several occasions. That's almost 2000km in one day! The co-skipper is Dona Bertarelli who is Ernesto's sister (Ernesto won the America's cup twice!). Sailing fast must be the family moto!
http://www.sailingworld.com/sailboats/editors-letter-spindrift-2-big-fast-and-bold
http://www.yachtingworld.com/features/spindrift-2s-jules-verne-round-the-world-record-attempt-70663
back to lezavs pogo40SUR home page